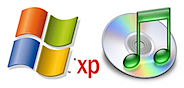 iTunes is the most popular digital media player application for both Windows XP / Vista and for the Mac. It is used for playing and organizing digital music and video files. It also acts as an interface to manage the contents of iPods as well as the iPhone. iTunes can also connect to the iTunes Store via the Internet to purchase and download music, music videos, television shows, iPod games, audiobooks, various podcasts.
You can download the iTunes digital media player for XP for free here via this link. If you have any problems with the install, check out this article on Apple.com due to some security features in Internet Explorer with Windows XP Service Pack 2.
Once you have played around with iTunes you probably want to load it up with some music. Note, you don't need an iPod or iPhone to buy and listen to music from the iTunes store. Use the button on the left to get music
You can download the music to your computer and listen to it via the iTunes player. You can also buy gift cards online that will be email to the recipient. You can click this link to buy an Itunes gift card online.
Some cool iTunes features:
When you think of iTunes you think mainly of music but you can also download TV shows (in HD), podcasts as well as movies.
You can listen to 100s of streaming radio stations for free using iTunes
You can rent movies using iTunes
If you have kids you can turn on a Parental controls to set what your kids are allowed to see or hear
You can share your music collection with other in your house over wifi using the iTunes sharing feature
A new feature call the Genius Sidebar will scan your music collection and suggest that are similar to current track you are listening to