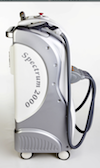 Truly Better skin (formerly Chrysalides)  is a  client and I built a website to spotlight her IPL Laser Hair Removal Boulder based business. IPL stands for Intense Pulsed Light and is the "next" generation of Laser technology (actually does not use a laser as such at all) for removing unwanted hair. IPL can also be used to treat / remove sun damage, veins, age spots and Hyperpigmentation.
So if you're curious, go check out her Boulder hair removal and IPL – business by clicking the link text to you left. I wish her all the best in her skin care endeavors.
More on IPL from wikipedia:
Intense pulsed light (IPL), is a technology aimed at producing light of high intensity during a very short period of time. It involves specific lamps together with capacitors whose rapid discharge provides the high energy required.
It is a method of hair removal from the body most commonly employed by medical practitioners and estheticians. It involves the use of a specially constructed xenon flash lamp and focusing optics.
IPL hair removal is cheaper and faster than laser hair removal, although the precise effectiveness of IPL compared to Alexandrite and ND:YAG laser epilation is debated by scientists, equipment manufacturers and practitioners. Their results are generally accepted to be roughly equivalent, although it is accepted that IPL sometimes requires more treatments than laser treatments, which counters the argument of IPL being a cheaper treatment option for hair removal. IPL can also be used as a skin treatment in a process known as photorejuvenation.
Call 720.205.5888 to schedule an appointment or email at info@trulybetterskin.com