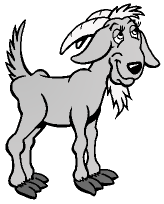 Since the demise of the Penny Lane Coffee House in August of 2005 there's been a void in the Boulder coffee house scene. It's not that the new ones that have sprung up aren't nice; Allisons The Cup is cute and Folsom Street Coffee has great seating and nice free off street parking. It's the people that have been missing, not necessarily folks you knew but just familiar faces, in some cases faces you'd seen for years, suddenly gone. Walking round Boulder you may have seen them from time to time, a quick raising of the eyebrows in recognition or a short "hi" in passing. It was like running into past members of a now disbanded secret club or society.
Well fellow wanders it's time to come home, as two former Penny Lane Batista's, Jonny and Shaun have opened up the eagerly anticipated "Laughing Goat Cafe" in same block as the old coffee house. It's tastefully decorated and although there's no smokers patio but there are doors in the front of the cafe that can be opened during warmer weather – this will be welcomed by sidewalk people watchers and dog owners like myself alike. Sure, it doesn't have the funkiness of the old Penny Lane. Gone are the all day patio campers (Saul :)) and the crazy mumblings of the daily crazy mumbling person who would stop by to amuse us. I often said that all we needed were a few vertically challenged people and tiperope and we'd have had a friggin circus out there!
My observations so far: the Internet is super fast (sucks upfront cos the router is in the back of the coffee shop, come one lads please move it), they have a good selection of teas with the ability to get a pot too and the coffee is not too bad either. I'm glad my one time fave hang out is back, and I look forward to talking it up with some of my long lost pals.
Here is their Location on Google Maps – 1709 Pearl Street, Boulder, CO, 80302. They are open daily till 11pm and word on the street is that they'll try to get extended closing hours in the near future, Whittier Neighborhood Association permitting. The one thing still missing in the Boulder Coffee shop scene is a late night hang out – one that closes at 2am so perhaps one day us nigh owls will have a place to hang.
May 2007 Update
Seems like our pals are in the process of putting up a website at the Laughing Goat dot com but it only contains a link to their calendar (as of May 22nd 2007) and it advises visitors to check out the Laughing Goat's MySpace page.
Laughing Goat now on CU Boulder Campus – July 2009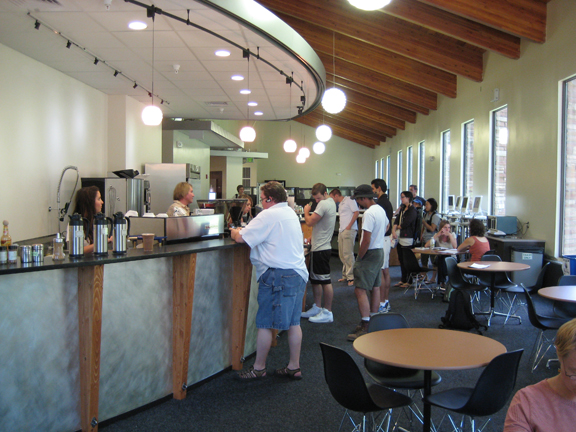 The Laughing Goat has just opened a second coffee shop on the ground floor of the new wing (Called the Learning Commons) of the Norlin Library on the campus of CU Boulder. It's a great well lit space with high vaulted wooden ceilings and sit in the south east corner of the new addition. The only downside is that there in no public wifi, you'll need to be a student registered at CU to log on or get a guest pass from a student or CU staff member. Coffee is good and next to the seating are are rows of magazines for your viewing pleasure. My new hangout for the hot summer months and I have wifi too thanks to a friend who works at CU 😉