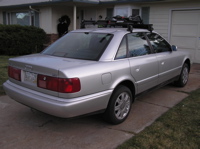 I finally got a 1999 A8 Quattro so I reluctantly need to sell my 1995 A6 Quattro! (I have no need for two cars and you can only serve one master right)
Specs: Color gray with black cloth (All Wheel Drive) – 5 speed – V6 170hp with 136k miles. Heated seats and sunroof. Electric drivers seat. Headlight washer (currently disconnected). The car comes with two sets of wheels/tires, hi-performance 17 inch summers and Dunlop non-studded snows – Note: radio and subwoofer will be removed or sold separately ( I have a high end pioneer DEH8600MP $450 – MP3 CD player that is in the car you can purchase from me but you can have the old radio / tape player) ($6300 KBB for car is $5300 + $400 for snows and A4 rims in good condition and $600 for Hi-performance 17inch summer tires Kumo and sweet new wheels, just paid $1200 for summer tires and rims)).
Seeing as I live in Boulder, am a bit of a lefty and love Mother Earth etc. I have decided to sell my Audi A6. 🙁 I'm getting a 4.2L Audi V8 – BooYah!! It's time to run with the big dogs, no more pissy V6 for me chaps, it's 300hp and 300lb of torque and manly V8 engine for me phoofters, so watch out! Audi diesels (in the USA) are still a few years off so it's time to have some fun – yeah! and double BooYah! (don't tell anyone this but the A8 can get 27 mpg on the highway). I love my A6 and I probably shouldn't sell her but what the hell.
So let me start out by telling you why you need this car? Let's face it if you live in Boulder or Denver every Tom, Dick and Harry has got a bloody new Subaru Outback (Subie). Christ on a bike!, you've only got to drive down to Pearl St. in your new Outback and there is a good chance that you're gonna park next to an identical model, perhaps even one in the same color. (it happened to a mate of mine) You want to get a Subie cos it's safe but the 95 A6 has 5 stars front and passenger rating too. You want AWD (you don't want to have to push a button when you start to loose traction!), the A6 has AWD and locking front and rear diffs, try getting locking diffs on a similar priced Subie. And gents, do you really think a lovely lass is gonna want to get a bit of "leg over" if you're driving a Subie and let's not leave out the Ladies here – how good do you really think a bloke is gonna be in the old "Boudoir" (winky winky …) if he drives one of these – think about it!
Details – see full specs of the 95 A6 here.
Summer Tires – Kumo 225/45 ZR 17 inch tires on 17 inch rims – $1200, new a year ago
Winter Tires – 185/65 R15 – Dunlop Graspic Snows Tires on Audi A4 rims – good for another 2 seasons
New windshield $220
New battery
Synthetic oil changed at 135k (she's good till 140k)
New struts – Boge gas (better than the OEM ones that were oil filled) $1000
Radiator and brake fluid flush – all fluids are nice and clean
New front rotors and pads at 120k
Timing Belt Replaced at 119k (she's good till 180k – this is a $1200 job when done correctly)
New air filter and plugs about 2k miles ago
Aircon recharged and blows cold
Will get 20 mpg worse case in city and 25 on highway.
21 gallon gas tank – drive 450-miles on a tank or more.

More about her
Before I start let me tell you that I'm the kind of bloke who'll climb into the passenger seat of your brand new automobile and tell you 10 things that are wrong with it, REALLY, I'm a tad anal when it come to cars so bear with me here!!! I am going to tell you her little nuances, some of which you probably won't even notice, ever!
There is a little oil leak from where the tranny goes into the engine but it's not worth being fixed because it does not interfere with the clutch (no slippage or heaviness ) and my mechanic told me I can do it when the clutch needs to be replaced which, judging by it's current operation and the observed history of other A6 users this may be quite some time! The car is leaking on the driveway (is worse in winter due to cold metal contracting) but it hasn't done this for about 6 months. The oil tends to drip down and collect on the plastic skid plate under the engine, I will remove it and clean it off at the car wash. It is really not a big deal but just wanted to let everyone know. The car does consume some oil which is normal for a car of this age but it's not something that you're gonna have to check at every fill up but just something to be aware of. The car does not smoke or hesitate at all.
The front left tire seems to be wearing faster than the tire on the other side so I just had the alignment done ($45!). I don't know if this will fix the problem but my mechanic looked at the wear and said that that alignment appeared to be the problem. The car was aligned with the big 17 inchers on so you may want to get it aligned with the snow tires on if you notice wear as they are pretty different in size. I also noticed a little noise coming from the right front of the car when backing out of the driveway but I don't know what this is and I don't feel any shakes or wobble at any speed (0 mph to 100mph+) – she we cruise quite happily at 75-80mph with the snows on and higher speeds with the summer tires on.
Electrics – sunroof needs to be fully opened before it can be closed. (It works fine otherwise) and sometimes when the headlights are left on by mistake the little buzzer doesn't buzz to tell you to turn them off, a few of the dash lights are out (2-3 out of the total of 12) but you can see the dials fine and one side of the speedo looks dime. All the windows work, doors lock, cruise control works etc.
So get to it – I have been told that this ride will be snatched up soon!