Ok Mac Cult members the wait is over, here are the new announcements from the 2006 Macworld expo in Sanfran. Yet again Mr J. has stumped us all with the announcement of a new PowerBook not iBook as expected! You gotta love the tagline for the new announcement clearly displayed on the top of front page of the apple.com website "What's an Intel chip doing in a Mac? A Whole lot more than it's ever done in a PC!"

– New Intel Powerbook! (MacBook Pro)
– New Intel iMac
– New iLife '06' cool
– iWork upgrade (yawn!)
– iPod Radio Remote … yawn

Introducing the new MacBook Pro notebook computer featuring an Intel Core Duo processor which delivers up to four times the performance of the PowerBook G4. This pup is gonna be $2499 for the fastest 1.8Ghz Processor with 256Megs of Video ram and 1 Gig of system ram standard. No modem or firewire 800! Has Optical in and out and also PCI-ExpressCard and screen is 67% Brighter. Just one inch thin and weighing only 5.6 pounds, the MacBook Pro also includes a built-in iSight video camera, an Apple Remote and Front Row software. Apple FrontRow, their multimedia application that turns your computer into a digital entertainment center.
Apple Unveils New iMac with Intel Core Duo Processor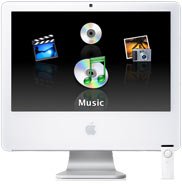 Running Mac OS X on the new Intel Core Duo processor, the new iMac delivers performance that is up to twice that of its predecessor. The widely praised iMac design now features dual-core processors, a built-in iSight camera for video conferencing and the breakthrough Front Row media experience with the Apple Remote.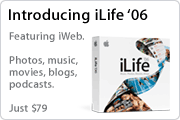 An upgrade to Apple's award-winning suite of digital lifestyle applications, iLife '06 features iPhoto 6 with Photocasting for sharing photos over the Internet, iMovie HD 6 with new motion themes, iDVD 6 for authoring custom DVDs for today's widescreen TVs and GarageBand 3 for creating professional-quality Podcasts. iLife '06 also introduces iWeb, a new iLife application making it super-easy to create amazing websites and publish them on the Internet with just a single click.


A new version of Apple's suite of productivity software, iWork '06 makes it easy for users to create even more compelling documents and presentations with Pages 2 and Keynote 3.
Apple Announces the iPod Radio Remote
The iPod Radio Remote combines the convenience of a wired remote control with new FM radio capabilities for the iPod nano and fifth generation iPod. Skip tracks and adjust the volume of an iPod even when it's in a pocket or backpack. Listen to FM radio stations while displaying station and song information on the iPod screen.