iTunes Gift Cards, also known as iTunes Gift Certificates and as of 2013 iTunes Gifts allow you to give your friends or family a credit at the iTunes Music Store OR gift them ANY item on the iTunes music store. If you've already got iTunes installed AND have an Apple ID then simply — click on this link — and you'll be whisked away to the buy iTunes Gift section of the iTunes music store.

If you gift them a credit the recipient can then be use this credit (anywhere between $10 and $100) to buy Individual songs, Albums (Beatles), Playlists (a number of songs but not in an Album), Audiobooks, Books, Music Videos, Movies, TV shows (TopGear!) and even iPhone and iPad programs / apps (Angry Birds is great).
CHeck out the brand new 2013 how to video below – full version
Just finished shooting this how to video so check it out below, it'll explain everything you'll need to know to enable to you buy an iTunes Card. Don't forget to support the video by — clicking on this link —-
Firstly, if you know what you're doing, have the iTunes software installed on your computer AND have an APPLE ID and need to quickly buy an iTunes Gift Card or iTunes Gift Certificate then CLICK THIS LINK and you'll be whisked off to the iTunes store to buy a Gift Card
Buy an iTunes gift card – short version – assumes you have an Apple ID, iTunes installed AND have give credit card details to iTunes
If you've never purchased an iTunes Gift Card / iTunes Gift before then read on – here are your options:
iTunes Email Gift Certificates – an email is sent to the recipient's inbox IMMEDIATELY or AT A LATER DATE with a special code that will allow them to buy anything from the iTunes Store – Any dollar amount is available between $10 and $100. You can also use this method to gift them any item on the iTunes music store
Printable Gift Certificates – a printable card that you print out first then hand to your friend that contains all the info needed to buy any item from the iTunes Store – Denominations of $10, $20, $30, $40 or $50 are available
<<< as of 2013 Apple no longer offers home printable iTunes Gift cards 🙁 – not sure why!)>
Physical Itunes Gift Card – this is a physical card that is mailed out snail mail (regular mail, delivered using a mail carrier) . The gift card is placed inside a nice paper card. You can write a message / birthday greeting inside the paper card using your computer. They come in denominations of $15, $25, $50 and $100 .
If you've already got Itunes installed then I won't waste more of your time so off you go then …….. CLICK THIS LINK and you'll be whisked off to the iTunes store to by an email gift certificate
&nbsp If you want to know a little more about certificates or cards then read on:
iTunes Email Gift Certificates, Itunes Printable Gift Certificates and Itunes Gift Cards explained
Itunes Gift Certificates / Cards make great birthday gifts. iTunes Gift Cards are physical Cards that will be mailed to the recipient once purchased (they come in $15, $25 and $50 denominations). Itunes Gift Certificates are like virtual gift cards and are sent to the recipient instantly via email and and come in $10, $20, $30, $40 and $50 denominations. Gift Certificates make great last minute gifts as they can be bought in a matter of minutes from the iTunes online store and emailed instantly to the birthday boy or girl.
Purchase an iTunes Gift Card in 3 easy steps
Install iTunes: To purchase an iTunes Gift Card make sure you have iTunes on your Mac or PC – If you don't have it then you can (Download Itunes for Mac and PC here)- Note: YOU MUST HAVE ITUNES INSTALLED TO PURCHASE THE GIFT CERTIFICATE OR CARD ONLINE.
Once you've installed iTunes on your computer and you log into itunes for the first time you will be prompted to create an Apple ID. This is simply an email address you choose and this together with a password will create an account for you on the Apple Store. When you create an Apple ID you will also be asked for a credit card.
Once you have Itunes installed on your PC, and have logged in with your Apple ID you can simply CLICK THIS LINK and you'll be whisked off to the iTunes storeYou will be whisked away to the "BUY ITUNES GIFTS" section of the iTunes Store (in the iTunes music player) where you can purchase a card of any denomination up to $50.
You will also be asked for the recipients email address. Once you enter all the necessary details and your credit card info, an email will be sent to the recipient that will contain a Certificate Code. Upon receipt of the email, your happy friend simply launches Itunes, clicks the Itunes Store link and then a Redeem link on the right of the main Store page. After entering the code they received in the email they are now credited with however much lolly you gave them.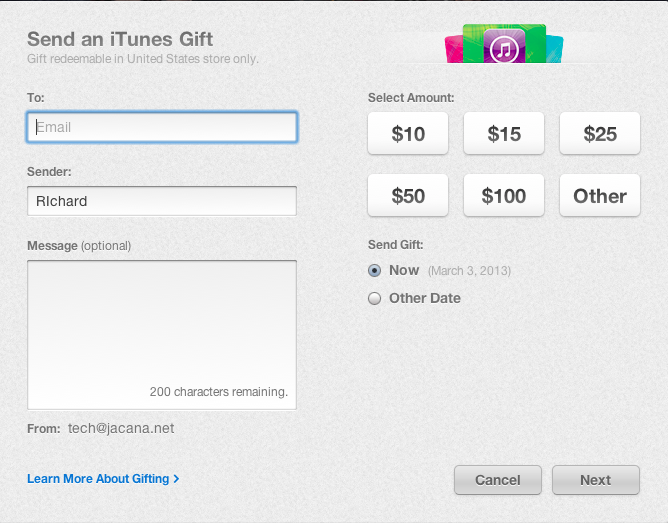 For full details on how to redeem your iTunes Gift Certificate see my article via this link
Give Specific Music, TV and TV Shows
This option allows you to gift specific songs, Albums or videos OR you can create gift the contents of a specific playlist you have setup. >>>>Click this link to gift Specific Music, TV and TV shows
Allowances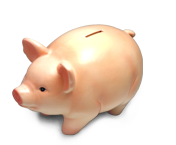 Allowances allow your kids to purchase music on a monthly basis without the need of a credit card. An amount of $10 to $100 is credited to their iTunes account every month. >>>>Click this link to buy an iTunes Allowance
iTunes Gift Cards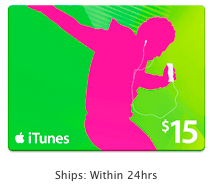 This is another option, you choose the card and it will be mailed (snail mail) directly to the recipient. The recipient will receive the iTunes Gift card inside a paper card that can contain a personalized message written by yourself on checkout. The cards ship within 24 hours and standard shipping is free. (Standard shipping is 3-5 days). Other shipping options exist – 2 day for $10 and next business day for $16.
>>>>Click this link to buy an iTunes Gift Card
Don't forget iPhones, iPod Touch and iPads owners LOVE apps!
Remember that those little device our Mac pals carry around are pocket gaming devices and everyone loves an app from the iTunes App store (part of iTunes Music Store) See the banner below for the top paid apps. Apps are full blown programs than run on iPads, Iphones and iPod Touches. Popular app categories are games but you can also buy other types of programs such as GPS like software and online radio tuners, sleep monitors, dictionaries, translations software and magazines and book too.
<Click to Gift an APP here!
Beatles Finally Come to iTunes
Well the Beatles have finally come to iTunes so now you can Buy Beatles Music on iTunes – finally! – another great gift idea for the recipient of a gift card!!