(This articles describes my experience with external computer microphones.) I've been doing the internet voice chat thing for years, mainly to talk to the family back in Africa so I've had my fair share of microphones in the past.
Computer Microphones 101
There are two ways of connection a microphones to your computer, the older mini plug/jack method and the newer USB mics. The older types come with a mini jack plug on the end, the same plug you have on a pair of Ipod headphones. The newer microphones have a USB plug on the end. What mic sounds better? I doubt if anyone could really hear the difference but on paper the USB types should sound better as they are fully digital. If you're on a budget the mini jack mic may be cheaper but my favorite, the Logitech USB mic can be had for $19.99 and it has some great reviews on NewEgg.com.
Mac and Mics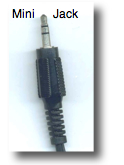 A few words of warning for Mac users, most mini jack mics wont work as the microphone input on a Mac is a line-in input therefore the signal will need to be amplified before it's fed into the computer. There are some mini jack mics that do this but why bother just go for a USB mic. When I switched from PC's to Mac platform all my microphones were rendered useless! My Powerbook did have a built in microphone and it works ok but it's conveinetly positioned next to one of the laptop speakers so people on the other end of the call always complain about hear there own voice. To get around this just throw on some headphones and you can say goodbye to any feedback.
Summary
Get a USB mic unless you're on a tight budget
If you're on a Mac you must use a USB mic
If you have to use you're computer onboard / built in mic then use a pair of headphones to stop annoying feedback

Here are some links to buy my favorite cheap USB microphone from Logitech. I have been using it for the past 2 years and it works great. Yes, Ladies and Germs you too can be the proud owner of your very own desktop phallus. It's fully adjustable and can be coaxed from the flacid, I'm sleepy horizontal position, right up to the 45 degree, "I'm ready for business/fully erect" mode. When things get a little too hot and heavy there is a conveniently placed on off switch on the base of this device – ladies I bet you wish some men were equipped with this too! Just don't get too close when chatting to your mates 😉

At Amazon ($22.95) Logitech USB mic
. You can also get it a Newegg.com for ($19.99) via this link.
Here is a link to the product page at Logitech