We've all gotten harassed by telemarketers from time to time and most if not all of them know that if you ask to be removed from their "do not call list" then by law the have to. E tour and Travel out of Orlando, FL however seems to be playing by a different set of rules as well as flogging the promise of a cheap $99 Orlando vacation. They are also perhaps the rudest bunch of wankers that I've ever come across! (Note: if you have an iPhone see this article I just wrote that will show you how to block their number)
My story starts with a string of missed calls seen on my cell phone from a 866 897-2756, a telephone - a E tour and Travelnumber. After I realized that they weren't going to stop calling me I intercepted one such call and politely asked the gentleman on the other side to PLEASE take me off their do not call list.
Several days later they called again, and I asked why they are still calling. My number it seems has been in the system since 1997 and belonged to someone else and wow, since the guy who's number it was previously is not around they are very kindly going to extend this Deal of the Century to me! Some convoluted story regarding a Orlando vacation and $99 per person for a 5 say holiday and a rental car and free plane tickets.
Next follows what I can only describe as the worst, rudest customer service experience I have ever experienced. I ask to speak to a supervisor and come up with an excuse - they hang up on me. Call again, supervisor - well I'm a supervisor says one female rep, "What's your name , Cristal she says, "Last name I ask" sorry sir I don't feel comfortable giving it out to you" WTF!! Third call ends in someone hanging up on me too! All in all I was hung up on 5 times!!!
And I'm not alone on this, one message board notes that there are over 100 complaints about this company with the Better Business Bureau of Central Florida see article here about E tour and Travel scammers. (Actually it's 300 all in all)
Others too have had the pleasure of being on the other end of the line when they call - just google the phone number and you'll see stuff like:
They keep calling daily even though we have told them we are not interested in traveling due to poor health. One guy got very, very rude and sarcastic and just plain hateful.

I am on line with them and they say that my husband and I have over a 900 dollar trip we never took back in 97. I told them I don't do time share. But they would not hang up and let me call my husband.

More unhappy people - See the post here


eTour and Travel is the name of the company. Website is http://www.etourandtravel.com/. They sell trips to their resorts and on these trips you have to sit through a siminar or something for 2 hours about their resorts. It's almost like a time share but not quite. I have a problem with them calling me every month to offer me something and I have told them time and time again that I want off their calling list....but they still wont take me off. It has gotten to the point where I am now reporting them to the BBB every time I request this.

3 pages of complaints here! and more here.
Track em Down - Speak to the owner Mr Lance Croft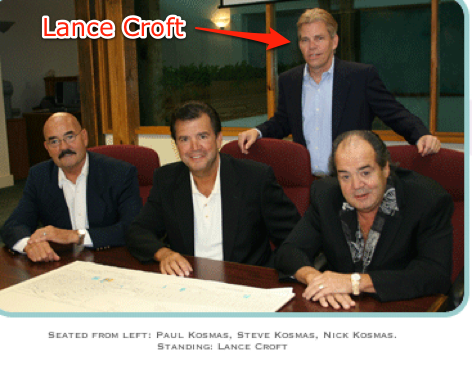 The first thing you can do is to register a complaint with the Better Business Bureau of Southern Florida. You can do it here : lodge a complaint against E Tour & Travel
They you can use the nice folks at the better business Bureau to get the full skinny on them Full Details can be found here.

Long history of Complaints ....
From BBB Orlando :
Based on BBB files, this business has a BBB Rating of F
This company is owned and controlled by the Kosmas Group and Cape Canaveral Tour & Travel. The Bureau has known both companies from similar operations that have been the subject of consumer complaints.
Number of complaints processed by the BBB
in the last 36 months: 349
in the last 12 months: 123

From the info below it appear that we should all be talking to Mr Lance Croft and congratulating him on his piss poor service and rude employees.


Business Contact and ProfileBack To Top
Name: E Tour & Travel
Phone: (800) 339-5120
Address: 3626 Quadrangle Blvd. Ste 400, Orlando, FL 32817
Google map Mapquest map Yahoo map
Business Category: Vacation Time Share, Travel Agencies & Bureaus, Travel Agent Mills, Vacation Certificates & Vouchers
BBB file opened: November 12, 2002
Primary Contact: Mr. Lance Croft (VP/COO)
Complaint Contact: Mr. Lance Croft (VP/COO)
Other Contacts: Ana Medina, Broker Account Manager


Feel free to leave your comments below ... >>>
Mr Croft - other companies / spam
Some one's research let to this post"

kyped this number - got an announcer with some woman with a Northern British sounding accent. The number is for "ETour and Travel" (etourandtravel.com) which gives an alternate contact number of 1-800-339-5114. Their website also has inbound toll-free numbers: Orlando, FL 866-912-9286; Hollywood, FL 866-836-3855; Kissimmee, FL 866-311-2562; Largo, FL 866-639-7720; Non-toll-free: 407-658-1768 and 407-515-2400.
Domain Name: ETOURANDTRAVEL.COM
Administrative Contact, Technical Contact:
Croft, Lance jlc1961@yahoo.com
3031 Randleman Ct.
Oviedo, FL 32765
US
407-383-9733 fax: 123 123 1234
NS.KOSMASGROUP.COM 65.161.249.125
NS2-AUTH.SPRINTLINK.NET
This "Lance Croft" also has domain names kosmasgroup.com and kgiresorts.com (identical WHOIS info). Sounds like your run-of-the-mill Floridian vacation spammer.

Seems there is another site - http://www.kgiresorts.com/ - KGI Resorts - and a video on YouTube too
Will be updating this page in the near future :)